The past couple of days of my life have been on more Red Bulls than snow on the ground. I don't know what the hell is going on but things are moving at a rapidly fast pace, so much that I now find myself up at 2 in the morning when I have a client scheduled this afternoon (nice). Not the time for an insomnia attack. One week life is moving turtle-slow, the next you're wishing things slow down!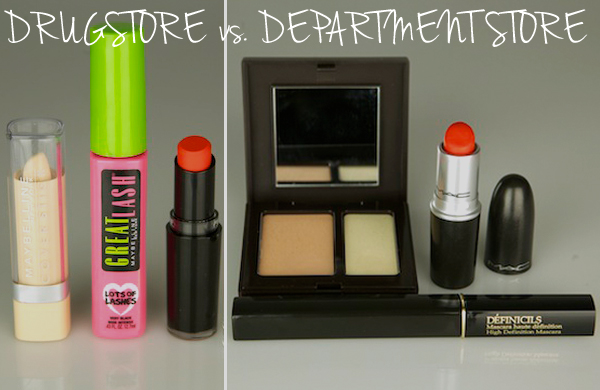 For those of you thinking this post was going to be just about makeup, there are great finds in the drugstores but there is nothing like department store makeup. The end, now move along honey. Those of you that know me by now, know that it isn't just about the makeup here. There's always more to it. Lets be honest with one another: If we could afford only department store makeup, would we ever consider drugstore lines? Or for my "Well, there's good finds in the drugstores" ladies, who would you marry? Say for instance, Mac and Target (makeup not the entire store) propose to you. You'd take that Mac ring and give the forehead kiss to Target. Sorry, but not sorry!
I attended a skincare training on Tuesday, and guess where the instructor happened to be from? Minnesota! Of all the states, cities, and metropolitan areas a skincare instructor could come from they had to pull her from Minnesota right? Just my luck! (For you newbies, Minnesota is where my "heart throb" is.) I've been tight-lipped on spilling the tea about "Minnesota" after the whole Vegas ordeal because as any girl would be, I was kind of heartbroken walking around like life was peachy. Inside, it was utter torture. "Minnesota" and I met, kissed in Vegas and the rest was history! So automatically I felt a kindred vibe to this instructor (not to mention her personality was so welcoming- it must be a Mid-West thing!) and felt inclined to be forthcoming about my Minnesotan Irish sweetheart.
As our instructor came around testing products on our hands, I just beckoned out all the polite questions I could about Minnesota, never really having been there. I was like a giddy kid. "Is it really, really cold? How do you guys get around? How's the plowing over there?" I'm just all questions because I need to know! I eventually want to visit! Then she asks the question, "Do you know anyone in Minnesota?" and like word-vomit, I'm spilling out the word "boyfriend" like a love-sick teen (OMG). To make matters worse, she announces to the whole entire training room about how she and I were talking about my boyfriend in Minnesota…blah, blah, blah. Instantly, I was over-the-top embarrassed. If I didn't have so much melanin in my skin I would've turned bright red at that very moment. "Oh my God," I thought to myself. I just put my foot entirely in my mouth. I could feel the room instantly getting hotter and my temperature rise at the thought of "boyfriend" echoing around the room. "What the fu*k did I just say?" I felt my boss behind me, burning eyes into the back of my head saying, "B*tch that is not your "boyfriend". I spent the entire next day freaking out. One thing I dislike is my character on the line. Am I optimistic or delusional? I start questioning every choice I'd ever made that morning. I'm not a habitual liar, especially not about any damn man. Ask me why I'm late, the answer is always traffic even when it was indeed my makeup routine. But other than that, I try to keep a pretty clean mouth.
So there I am, walking around devastated thinking my boss will out me or question my trustworthiness because I spewed out the damn word "boyfriend". It was 9 am in the morning, way too early for my liking. Now that I look back, yes there are a ton of other things I could've named him but definitely not boyfriend. For one thing, I'm pretty sure I'm passed the boyfriend age. At some point in a girl's life, the term "boyfriend" is null and void. If he isn't your man by now, have several seats darling. I had to do something. I racked my brain trying to figure out how the hell to pull myself out of this, so the best scenario was to actually just talk to him about it. The truth is Minnesota and I are indeed in a really good space. After sending him a message via Facebook with three simple words, asking for his number, almost immediately he replied back to me. I asked my two-year old cousin if I should text him. In the most innocent voice she responded, "Uh-huh." I couldn't resist. At two-years old she is definitely too pure to steer me wrong.
Once we left Vegas, things (I) got crazy, and we took a break. A much appreciated break I can look back and say to not only him but myself, "I made a mistake." Like the gentleman he is, he welcomed me back with long-distance open arms. I've dated, hit on guys, and extended myself to other possibilities but he is my virtual 'sigh of relief'. This is a man I can express my business plans to and have him give me crucial feedback, send all my naked 'selfies' and receive rather intimate ones in return, or I can call and vent to about anything and receive a level-headed response. Yes, I immaturely threw out the word "boyfriend", but he is not far from it either. I've dated guys after him that weren't worthy of even knowing my panty size, so I began to withhold more and more of myself to undeserving pieces of meat (literally). I don't need a man looking at me expecting sex. That's another ship that has sailed. When a man flies you out to Vegas for your very first date and single-handedly sweeps you off of your feet, it's going to take a lot of persuasion to get to know me on a physical level.
Minnesota is not my boyfriend, but he is definitely department store makeup. He gets me, he has my color and is worth the investment. I came across an article that talked about not being emotionally available for a relationship, and I honestly feel that is very much-so me. I think I want a relationship until I actually get into one, and I'm draining myself entirely into it. Not only am I not emotionally available but partially physically as well. I don't want "Friends With Benefits", and I don't want to jump into another situation where I'm giving so much to my personal life that I'm losing and sacrificing my professional one. He and I talked for an hour about what we want and he honestly admitted he jumped into a situation with me, yet ironically I couldn't admit to him that I did the same thing. I broke up with an ex in August and was seeing Minnesota by October. Did I really give myself the time to heal? Or did I rush into something not wanting to be alone? We jumped into something and I know I fell, but I've never thrown around the "L" word to him (Bye ship!). He is not my boyfriend, but he, I still believe to this day is my soul mate. Until I meet someone else to prove me wrong, I will continue to wait and focus my energy on my passion. He upped the ante of what a gentleman should embody and the level of support you should receive from said "boyfriends". You never know, sometimes life just blesses you with an "Ante Upper", and Minnesota could be just that. Once you find the right shade of department store makeup, drugstore foundation just doesn't feel the same. I simply refuse to sleep with anymore drugstore makeup, so I'll continue holding out for that department store quality.
Say "No!" to drugstore boyfriends. Save your "cookies" for department store ones.
Fashionably Yours,
Tamara